Thinking about selling your home in Portland? Every spring, sellers start to get serious about listing their homes, and even though we're in the midst of a pandemic, we're in for a very busy summer market. Usually by March/April, we're used to a hot hot hot real estate market, and it seems that this year we can still expect a VERY active real estate market—it's just instead of March/April, we're looking at things heating up big time come May/June. I'm just as surprised as you are, but for many, life must go on, and you might be like many others who want to sell their home. 
If you're thinking about selling your home in Portland this year, then hopefully you can use some of this extra time at home (thanks quarantine!) to spruce up your abode. Some people may not know this, but as a real estate agent, I don't just show up when it's time to list your home—it's 100% my jam to advise sellers on how to prepare their homes for sale, too! I'm literally here to help you through the ENTIRE home selling process, and this can (ideally) begin several months in advance of when you actually want to list your home. 
Taking time to plan ahead is important because investing energy and resources into freshening up your house can not only translate to the successful sale of your home, but can also mean selling for over asking/multiple offers (it's always nice to have options!). 
Luckily, prepping your home to sell in Portland doesn't have to break the bank, and there are a few *very* affordable things that can give your home a fab refresh. (Plus, since I work with lots of home buyers, too, I know exactly what they're looking for!!) And don't worry—you don't have to be a home renovation expert for any of this. "Youtube University" is your friend, and you can learn how to do pretty much anything over there. 
Here are my top 10 recommendations for affordable updates that'll get you the biggest bang for your buck: 
1. Change out lighting throughout your home. 


Lighting is one of the biggest things you'll want to focus on. Many people don't think much about lighting when they're prepping their homes, but once they update lights… then WOW. The transformations that are possible are actually kind of mindblowing, and lighting can set the tone for the entire house.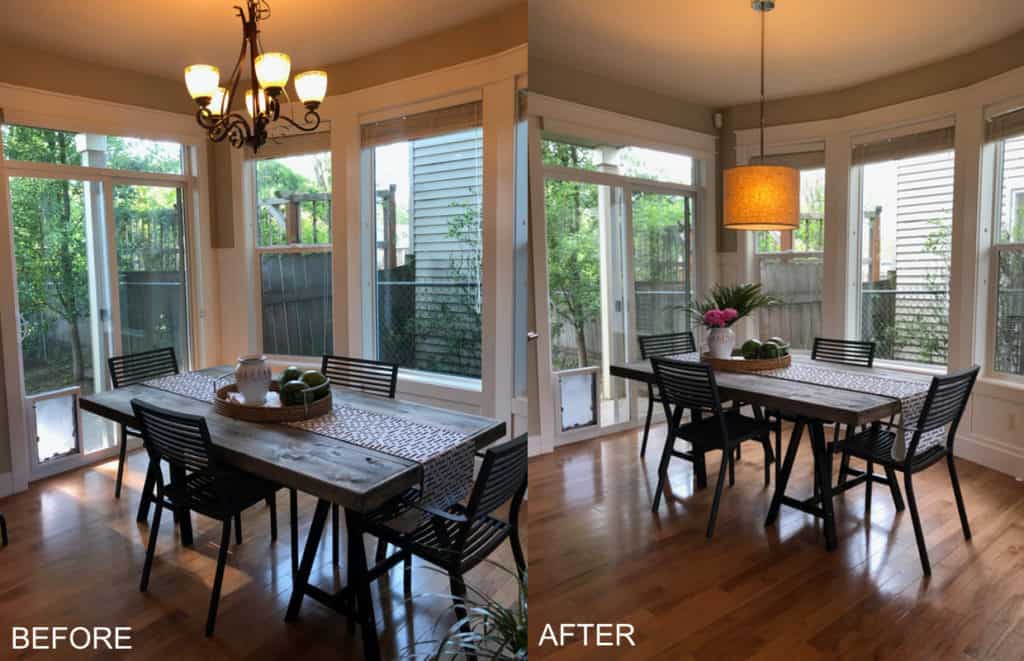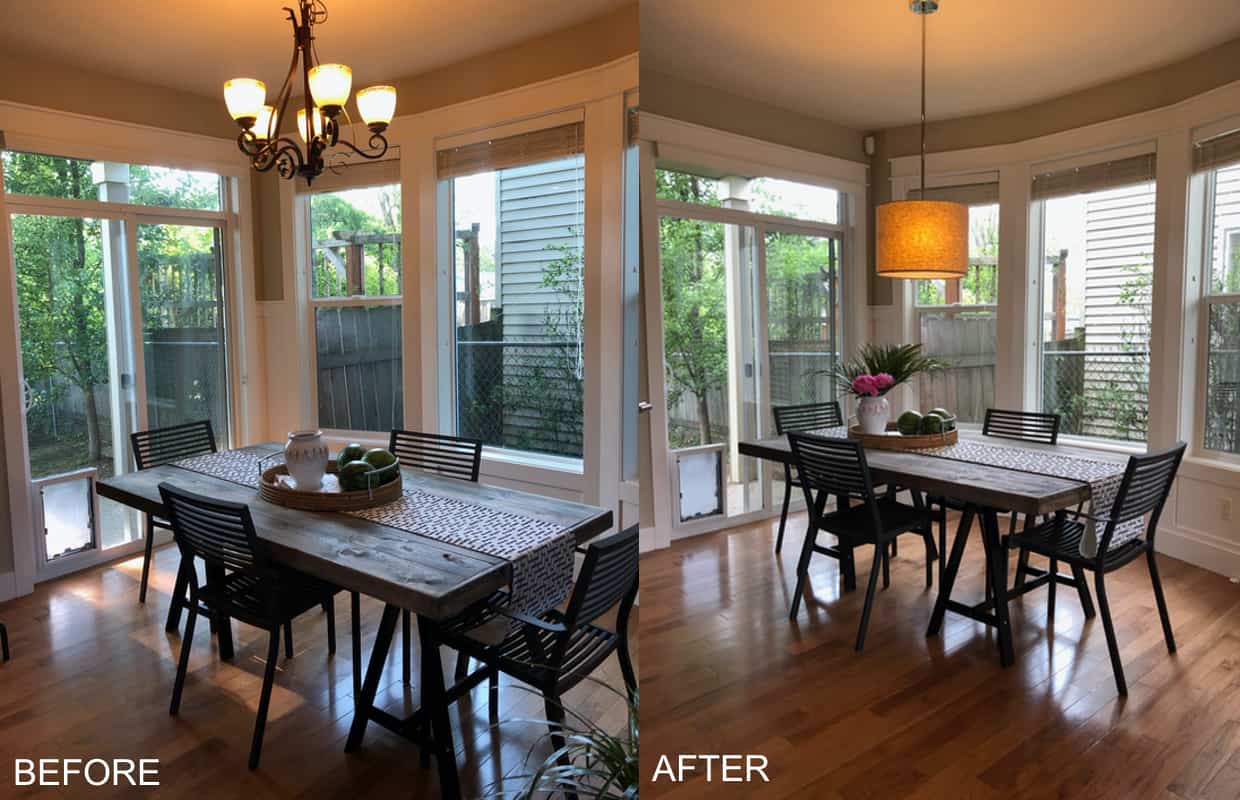 Switch out those dated fixtures hanging over your kitchen island, add a statement piece in the dining room, and give bathrooms instant makeovers with new light fixtures over the mirrors. Now is a great time to upgrade to energy efficient bulbs, too, if you haven't already. This is an affordable upgrade that can make suuuuuuch a huge difference. Do it!
View this post on Instagram
2. Paint your front door. 


First impressions are a very real and important thing, and having a front door that really pops! can instantly take your curb appeal to the next level. Bright front doors have become more popular in recent years and can help your listing stand out + be more memorable when people are browsing through 100s of homes in the same neighborhood. This is definitely one of those transformations that's cheap but packs a big punch. 


3. Change out the front porch light.
Speaking of first impressions… alright, this one isn't as sexy as giving your door a vibrant "look at me!" makeover, but changing out your front porch light is one of those subtle things that helps secure you that ever sought-after curb appeal. And of course, it *must* be done if your front porch light is on its last legs…. the last thing you want is a flickering light to greet potential buyers.
4. Change out house numbers.
This is another quick fix that can instantly modernize and refresh the look of your home's exterior. It's not expensive, and you can bang it out in a few minutes. 
5. Paint kitchen cabinets.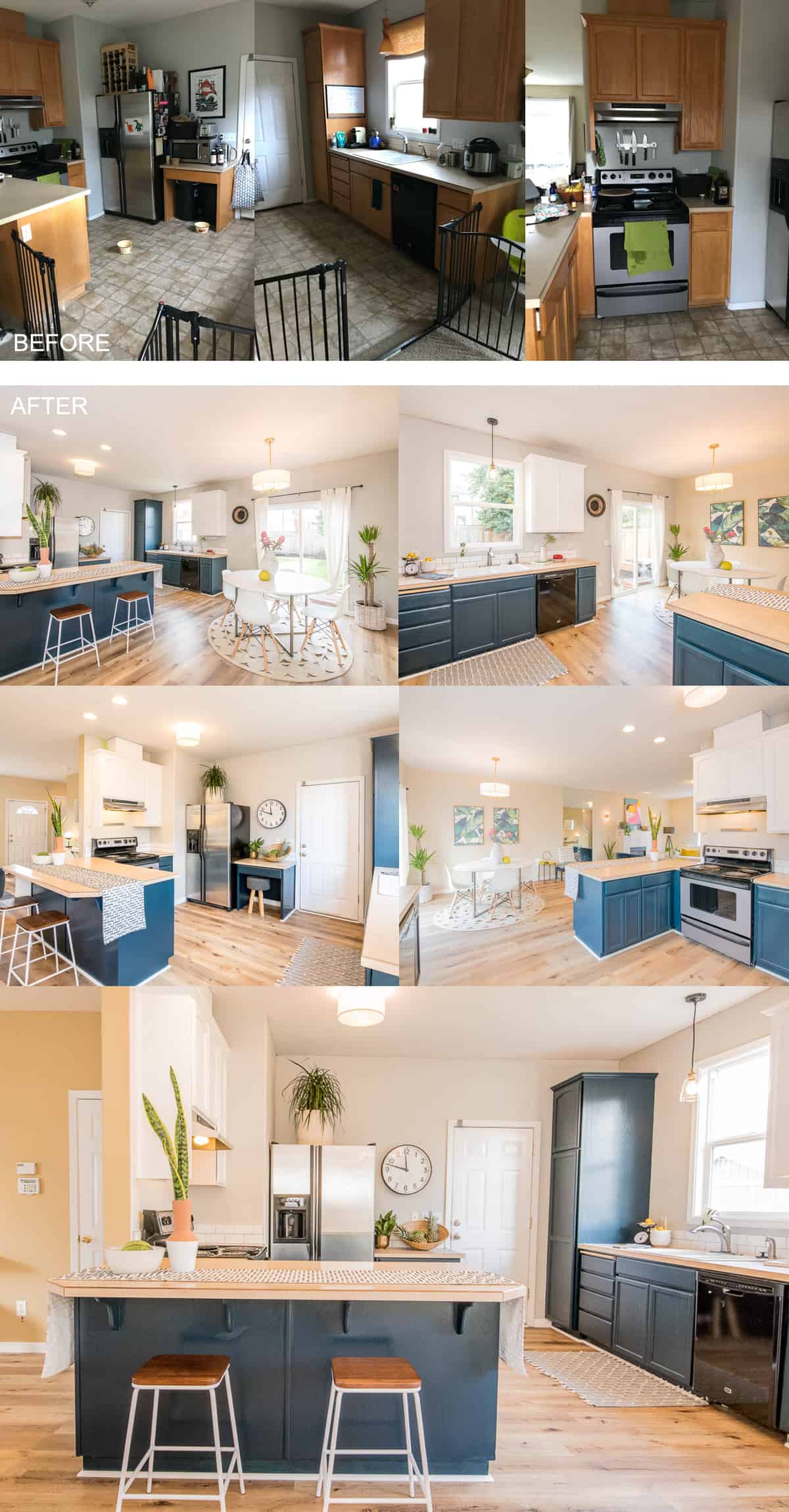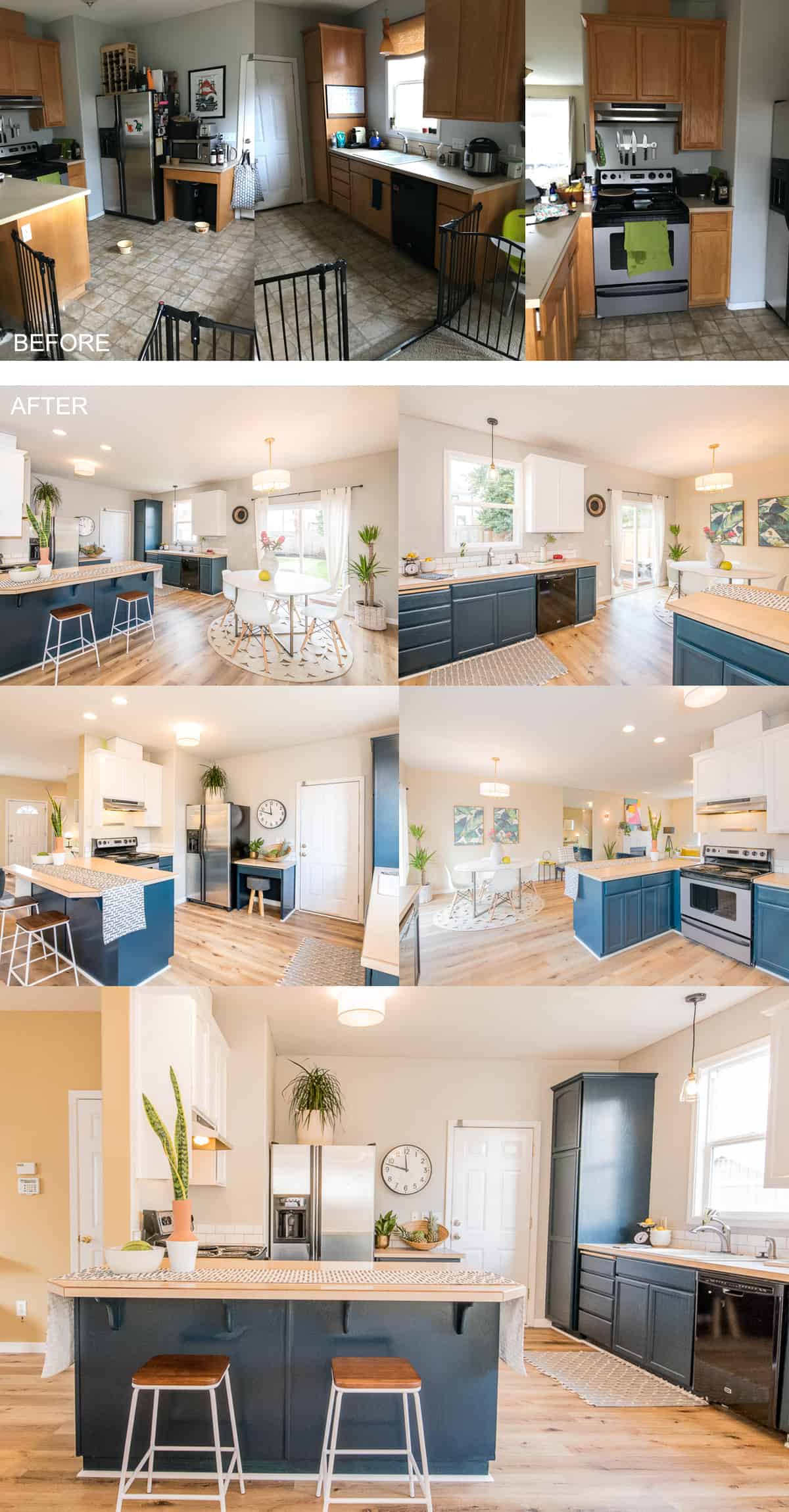 If your kitchen is a bit dated and the thought of doing a complete remodel makes you want to hurl, a fresh coat of paint might be just what the doctor ordered. Painting kitchen cabinets is HANDS DOWN the easiest and cheapest way to update your kitchen.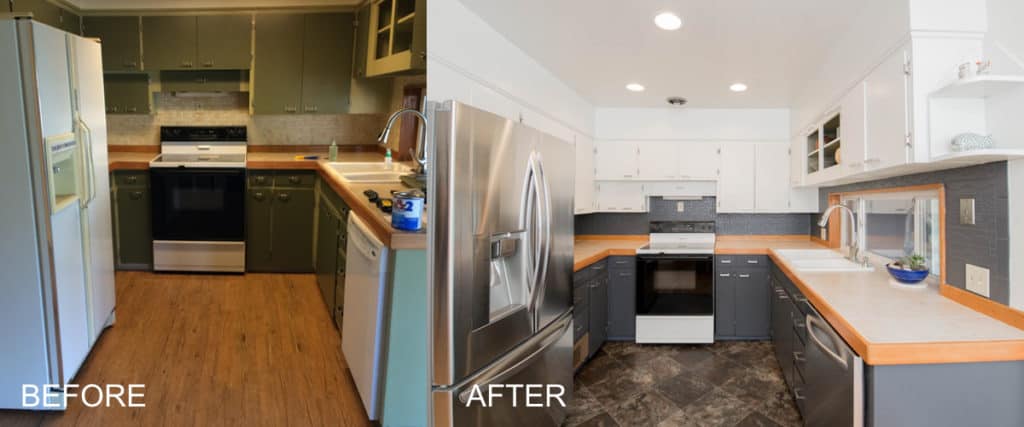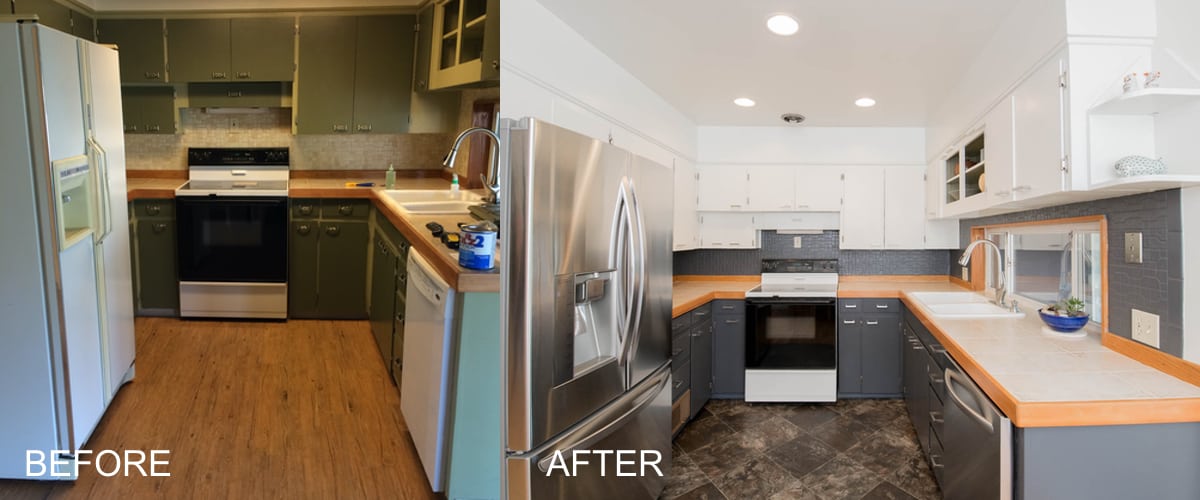 Just look at the before and after pics of this kitchen… they even painted the backsplash tile! Painting the upper cabinets white gave the entire space an instant lift, and also helped the space feel more open and cheerful.


6. Change out your kitchen cabinet pulls. 
This is an economical way to completely transform the aesthetic of your kitchen (and this works in bathrooms, too!) without having to rip out all of the cabinetry and spend a fortune on new stuff. Switching out cabinets to something more sleek and modern can take your kitchen from 2000 to 2020 in an afternoon. 
View this post on Instagram
7. Change out faucets. 
Similar to switching out hardware, updating your faucets can have a major impact on aesthetics. Having older faucets can make a space look really dated, but when you freshen up a kitchen or bathroom with a new faucet, suddenly it gives the whole countertop space a new lease on life (without having to necessarily update counters). 
View this post on Instagram
8. Paint rooms. 
Painting your home to prep it to sell is a different endeavor than painting a home you want to keep living in. You have to think about what is going to make your home look its best to the most people, and because of this, many people like to paint their interiors completely white when they go to sell. Simple, crisp white can help spaces feel bigger, cleaner, and gives your home that "new car" feel (and smell). 
However, choosing a color might look different for you depending on your space, and sometimes bold is better! I recommend consulting with your real estate agent on this (and really any upgrades) since they'll be able to advise you on what will be best for your unique home and each different space. 
9. Landscaping.
View this post on Instagram
Especially if you're willing to put in some elbow grease, landscaping can be a financially friendly way to give your entire property a boost. Get your lawn looking park-perfect (this will require advance prepping if you need to fill in patches with new grass), freshen up bark (but do this well in advance of tours so any compost/manure smell is gone!), and add in strategic color via colorful flowers (make sure you're choosing blooms that will thrive in each space, and hopefully you can choose flowers that are blossoming as you take listing photos + start hosting tours). 
If you have an outdoor entertaining area, you'll want to make this space look its best, too. This is *especially* important right now since so many of us are spending extra time at home, and right now is prime season for spending time outdoors here in Portland. 
View this post on Instagram
Pressure wash your patio or deck to get rid of that winter grime (more on this in #10), clear away overgrown brush and weed garden beds, and help buyers really envision what it will be like to spend a warm summer's night sipping a cold beer in their very own outdoor oasis. Outdoor furniture can help with this, and simple touches like brightly hued rugs, accent pillows, and a string of glowing lights can do wonders for minimal $$$. 
10. Pressure wash.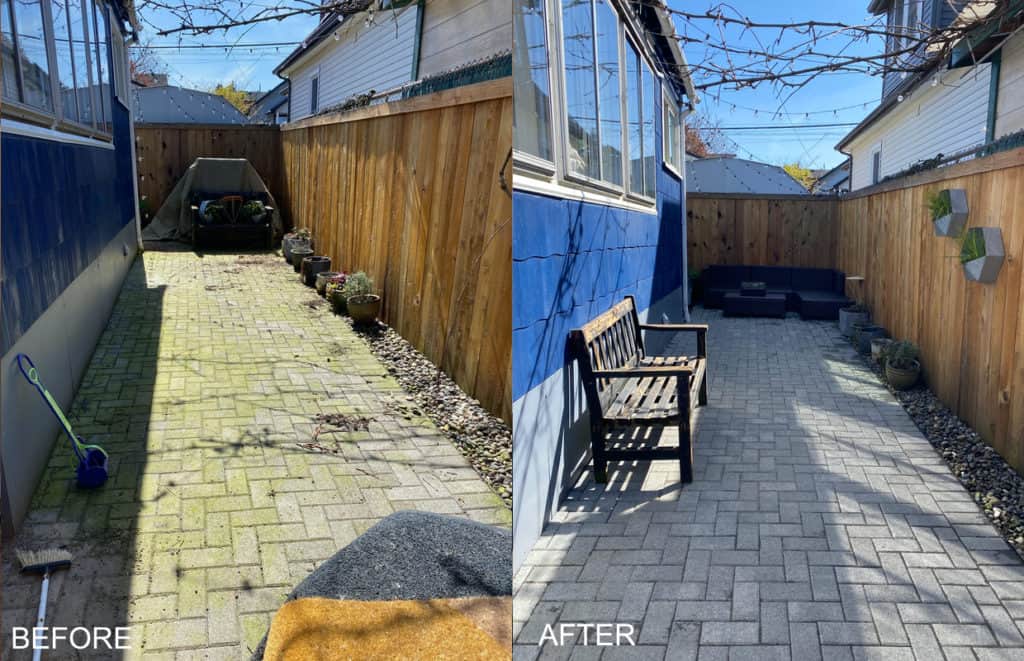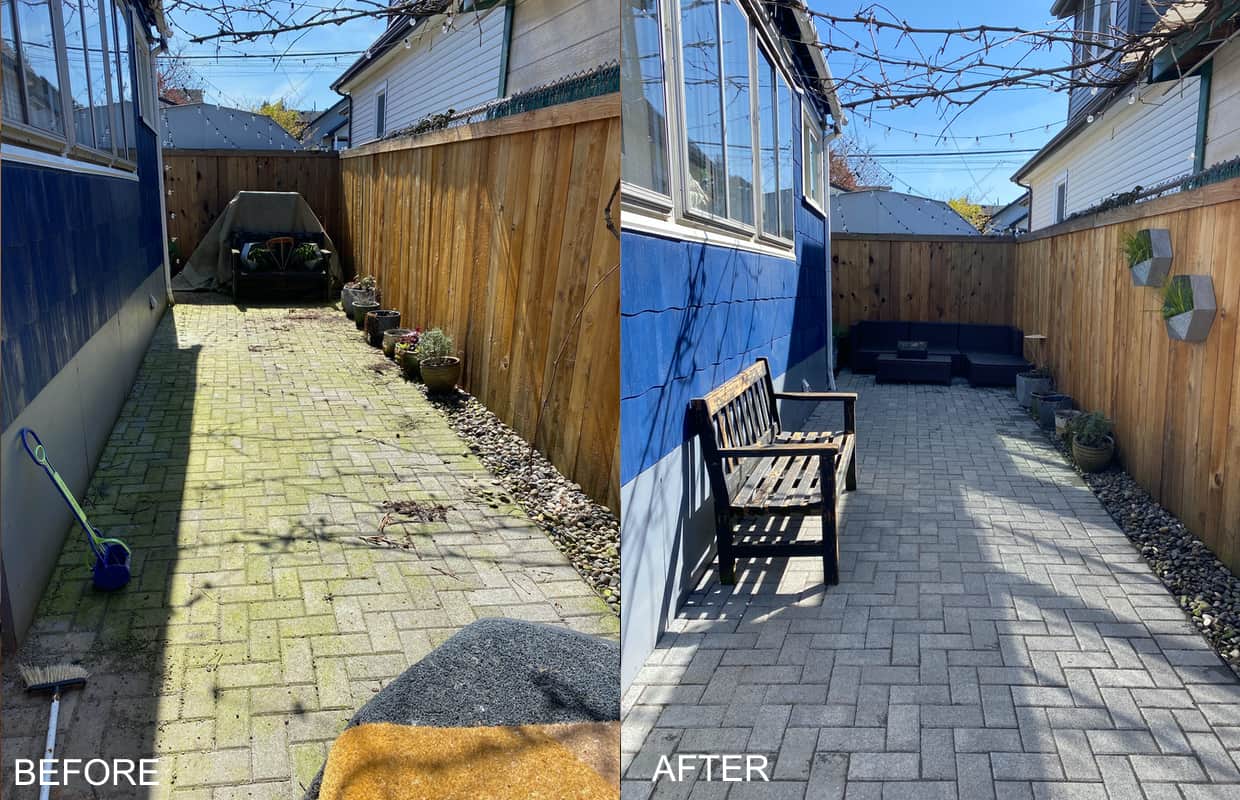 You might think you need to install a new walkway, a new patio or deck, or new siding on your home… when really you just need to give these things a good scrub. Pressure washers are your friend, and they can take something OLD to practically NEW in merely minutes. Seriously. If you don't have a pressure washer, borrow or rent one! 
***
These days, selling a house is basically internet dating! All of these seemingly little updates are like putting on a fresh coat of lip gloss before you snap your profile pic, and using natural lighting and a photo filter to your advantage… they're quick, simple things that can make a huge difference. Most buyers already did their preliminary research online before COVID-19, but now with people not leaving their homes as frequently, online home searches (and therefore the photos of your home!) are more important than ever. 
Have a question about selling your home in Portland, Oregon? I'm here to help you figure out this process from start to finish! You can get in touch with me here.