Virgo season is upon us, and what better way to celebrate than with a blog allllll about the relentless pursuit of perfection? That's right, we're diving into the world of fixer-uppers!
Today, we're exploring a few sage pieces of advice from my fixer-upper aficionado friend, Perry Eising (@perrysetgo). From how to save a pretty penny to the home renovation projects you shouldn't touch with a ten foot pole. AND stick around till the end for Perry's top 7 tips for your fixer-upper journey — they are honestly genius.
As always, this is just a taste. The real juicy stuff is in the IG LIVE sesh. If you're hungry for the full meal, be sure to give it a watch!
Ready? Let's roll up our sleeves and get down to fixer-upper business! 🛠️🏡
---
If you're new here, I'm Lauren Goché — a Portland realtor with a decade of experience backing me up. Which means I've weathered more than a few market shifts over the course of my career, and specialize in making sure you can make the most of the market for your goals. Read more about me here.
---
Meet Perry Eising
Perry's always had a knack for tinkering, building, and just making things better. Fed up with the whole saga of crummy housing and landlords who wouldn't lift a finger to fix anything (haven't we all been there?), they decided it was time to take matters into their own capable hands.
That's when we crossed paths back in the spring of 2020 and Perry asked me to find them a fixer-upper. The rest is history!
Now, fast forward three years, and Perry's still riding high on their fixer-upper adventure. Along the way, they've gathered some fantastic tips, and they're more than thrilled to share their wisdom with us.
---

Is a Fixer-upper Right for You?
When I come across folks who want to tackle a fixer-upper, I take a moment to dive deeper and ask, "What does 'fixer-upper' mean to you?" Because, trust me, there's a wide spectrum.
Some people mean nothing more than a fresh coat of paint and perhaps a few new light fixtures. Then there are those who really want to get their hands dirty.
The truth is, the decision to take on a fixer-upper hinges on a few factors:
Your unique situation. 
The time you can commit.
Your budget.
… And how much you're willing to live in a construction zone for a few years.
So if you're thinking of getting a fixer-upper, ask yourself: Do you like to tinker, build, and improve things? Do you want to put your unique touch on a property? — If that's a "yes", then allow Perry to set your expectations straight:
"It's important to understand when you look at a property that whatever it is you see right off the bat that needs doing is just the tip of the iceberg. You might want to go a level up because it's actually going to be whatever you see, plus whatever is behind that, plus a little bit more. It's good to be conservative, even if you're enthusiastic about doing the work."
Every brave soul who's ventured into major renovations has told me it's always a shit ton more work than they imagined. It's like a domino effect; one task leads to another, and suddenly, you're tearing out ceilings or dealing with an ancient 1949 boiler leaking during the dead of winter that then spirals from one problem to another until you're knee-deep in a colossal $27,000 project… Yup that happened to me.
Contractors and Timelines
When it comes to dealing with your fixer-upper, bringing in some extra help might be a smart move. Here's Perry's advice on that:
"If you're planning a big project on your house and you don't want to do it or it's something you can't do legally, it's worth trying to figure out before you start anything, if you can't do this, how long will it take to get an electrician or plumber to do things?"
Now here's where I shamelessly promote myself as a realtor. One of the fantastic perks of working with me is I've cultivated solid relationships with contractors and professionals in the field, and as my client, you'll be their top priority. Consider it a bonus when you've got me in your corner. 😉
Resources for Your Fixer-Upper Journey
You might be wondering how the heck are you going to learn everything you need to know for your fixer-upper projects? You'll more often than not have to learn the ropes from some rather unconventional sources — like old men plumbing forums. Here two DIY resources Perry and I absolutely swear by:
Youtube University: We all know and love it. I even learned how to plaster a wall from a YouTube video. It's undeniably one of the best resources, especially if you're a visual learner. Here's Perry's advice: "I wouldn't just pick one video and do exactly what they say without cross referencing. Watch a few from different people and if they all mostly suggest the same approach, that's probably the best way to tackle things."
Terry Love Plumbing Forum: This forum is a gold mine for gathering top-notch information about all kinds of DIY projects, not just plumbing. You can make posts, ask questions, and do research.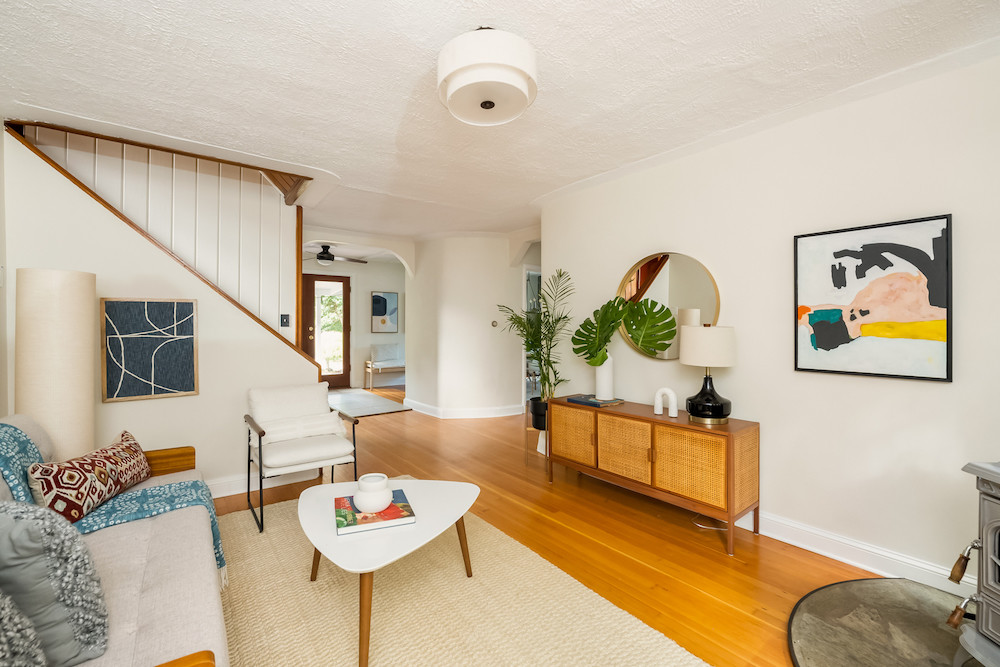 Projects You Might Want to Hire Out Instead
Here's the verdict from Perry: "Drywalling a ceiling. It's really hard to get a good result, especially in a small space where you can't get stuff up there. If you can afford it, contract it out"
Can confirm. I've got a friend who always says, 'any work above your head is five times the effort of the same project not above your head.'
As for my end, one project my clients consistently tell me 'never again' is doing hardwood floors. They start off thinking, 'I can totally do this. It's no big deal,' and jump right into the whole learning curve. But then it hits them that hiring someone is actually more budget-friendly than they initially thought, and these pros can knock it out in just two days.
"It's always a balance. If the most important thing to a person is keeping their budget as low as possible, then they can take a little extra time to do things, and maybe redo them if they don't turn out perfect the first time around. But if the most important factor isn't saving money but that it happens on a good timeline, consider hiring someone to do it."
On the other hand, tiling, according to Perry, turned out to be a breeze: "One tip that I have for people who are doing first-time tiling is to choose a tile that has an irregular edge. When I was tiling I could easily work around things. Even if it was not 100% level, you couldn't really see it because the tile was irregular and covered it up."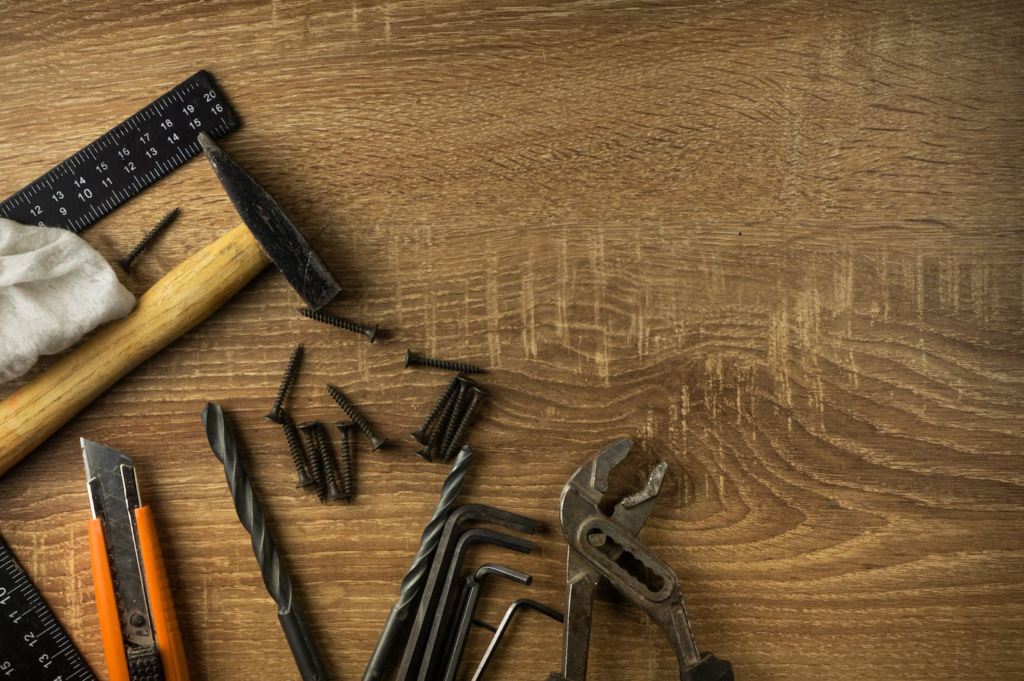 How to Save Money on Building Materials
If you have the time and patience, working with salvaged materials can be a game-changer for your budget. Here are some resources Perry recommends:
Shop from a salvage center: There's a bunch of different places around town where you can get salvaged cabinets, wood flooring, and all kinds of things that you might need. Perry's personal favorites are ReBuilding Center and ReClaim It up in North Portland, and ReClaim NW on Foster Road.
Listings on Craigslist: Don't underestimate the power of Craigslist, it's a goldmine for discounted building materials. You can score items like rolls of insulation, drywall with minor imperfections, two-by-fours from deconstructed decks, floor tiles, wires, and much more. Some generous souls even give these materials away for free.
And if you're looking for some additional inspo, follow my pal @audra.diy, I'm constantly amazed at how she manages to complete projects on a budget. She's a pro at repurposing items from salvage centers and turning scraps into something fantastic. So, if you want to tackle your home renovation goals without breaking the bank, it's totally doable!
Why It's All Worth It!
We've delved into the difficulties of owning a fixer-upper, let's also celebrate the really beautiful aspects of the process as well. Here's what Perry's got to say:
"I would absolutely do it again, and not just because I had the chance to leave my mark on the house, but also for the sense of safety that comes from knowing my home inside and out, especially since it's an older one. I know every step and every hole. I know where every piece of wire runs and that the plumbing gets a little dodgy around that one spot — When I hear a noise, I know what to expect."
As a realtor, safety is a big motivator for doing what I do. Taking on a fixer-upper can be a tough journey, but it gives you a deep understanding of your home. So when unexpected stuff pops up, you're ready. That's a lot safer than constantly wondering if you have a mold problem or other uncovered issues with your house. Having a fixer-upper is not only satisfying but it can give you peace of mind.
Let's leave off with some final motivating words:
"If you come to the conclusion that you want a fixer-upper, you can absolutely do it. Many things are so much easier than you think and you can always redo and patch things up. It requires determination and grit and perseverance, but it's totally doable, and it's very fun and very enjoyable."
Perry's Top 7 Tips for Ya:
Invest in the best shop vac your budget allows (and slap some googly eyes on it, cuz you might as well make it cute)
When choosing between multiple properties that are otherwise the same, opt for the one closest to the hardware store. You'll thank yourself later when you're on your 5th hardware store run in a day.
Consider how you'll transport, store, and dispose of materials. A truck or trailer might be in your future.
Look for a house where the big things are already in place. We're talking about a recent roof, recent windows, etc.
Just because you can afford a house doesn't mean it's the right one. Fixer-uppers demand serious effort, so make sure you genuinely like the house and the neighborhood. It's not just a financial investment but an emotional one too.
Ask yourself if you're the kind of person who thrives on problem-solving and LOVES tinkering even when you're off the clock
Last but not least, don't forget to have a water main key handy—a simple T-shaped tool that can save the day when water issues arise — and they will at some point!
---
Wrapping Things Up…
Whether you're contemplating starting your fixer-upper journey, already in the middle of one, or just here to soak up some knowledge, I hope you've gained some inspiration and sage advice from us.
And if you're eyeing a fixer-upper but have plans to sell within the next 5 years, it's a savvy move to reach out to your realtor for some guidance. We'll need to make some of those decisions together.
And remember:
It's always more work than you initially expect.
Don't hesitate to hire pros for tasks like drywalling a ceiling or installing hardwood floors. It might be cheaper than you think or save you from a major headache.
Make the most of resources like Craigslist and local reclaim centers to snag discounted materials. You can save a pretty penny!
Ultimately, having a fixer-upper means gaining a deep understanding of your home. So when inevitable hiccups occur, you'll be well-prepared.
As always, I'm here to help you navigate the real estate waters. If you or anyone you know is looking for a fixer-upper and wants access to the best contractors in town, get in touch with me here.