Hi y'all! It's a new year, and with it comes a new market cycle and investment opportunities!
If you're new here, I'm Lauren Goché — a Portland realtor with a decade of experience backing me up. Which means I've weathered more than a few market shifts over the course of my career, and specialize in making sure you can make the most of the market for your goals.
Gather 'round as I revisit and reflect on an old blog of mine which tells you exactly why you should invest in a duplex with family or a friend. This time around I'll break down why buying a duplex is a great idea, even if you're going at it solo.
As a first time home buyer, investing in a duplex can be one of the smartest and safest steps you take to creating generational wealth. That's why I wanted to give you the lowdown on duplexes a la 2023: why you should invest, and how to get the most out of your passive income. Let's dive in!
---
Back to the Basics: Duplexes!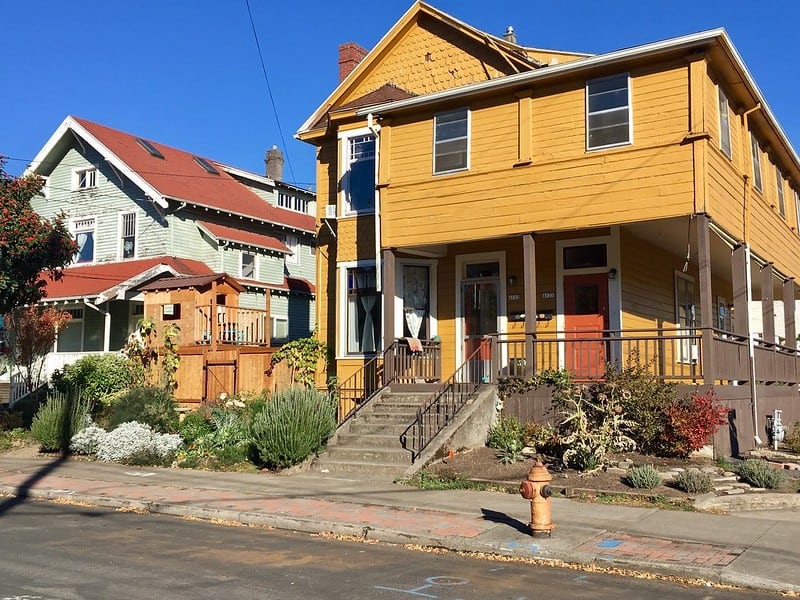 Photo by Sightline Institute – Flickr
A duplex is a type of multifamily home that features two separate units, each with its own entrance. Essentially, two properties, connected by a shared wall, usually with mirrored floor plans. The units can be side by side or stacked vertically — the latter is especially common in Portland.
You might be wondering, "what's the difference between a townhouse, a duplex, and a multifamily?" A townhouse in Portland is different in that each person has their own individual unit. A duplex, or multifamily, is when one person owns all units. This can differ depending on region, so if you're venturing outside of Portland – double check your real estate terminology!
Portland Duplexes vs Single Family Homes
Have you been considering a single family home or duplex, but aren't sure if your budget allows for the latter? Your first step to comparing cost is to use the 1.5x rule! For example, if a 3 bed/2 bath house in your ideal neighborhood is worth $500k then expect to pay around $750k for a matching duplex with two of those homes side by side.
If that sounds like a lot to you, I suggest looking at it systematically: Look at the average rent for a 2 bed/1 bath in the area, what your mortgage payment would be for the duplex, and what your payment would be if you bought a 2 bed/1 bath in the same neighborhood. You might find that a duplex is a better investment than a single family home. More on that below!
Why Duplexes are a Safe Investment
Renting out a duplex isn't just about extra cash flow – it's your path to financial freedom in one convenient package.
How a Duplex Will Save You Money.
It might seem counter intuitive, but owning a duplex could actually cost you less than renting. By living in one unit and renting out the other, your monthly mortgage payment could be cut in half – if not more! Calculate for yourself: take an area's average rent for a 2 bed/1 bath and deduct this from what you would pay on a duplex mortgage to see how much money you could potentially save.
Creating Passive Income with a Duplex
Make your home work for you! Duplexes combine the best of both worlds by being both an investment property and a home. By renting out one or both units, you can collect rental income which you can use to reduce your mortgage payment or to build home equity faster. Think how great that extra income will be when you retire!
Win-Win Scenario
You might gawk at the idea of becoming a landlord, but the truth is the world needs good landlords! It's no secret that there's a lack of affordable housing in Portland Metro. By renting out your unit at a fair price, you give tenants better options while earning some cash along the way! Not only that, but living right next door gives you peace of mind AND, your tenant will love having a responsive landlord for any questions or unexpected repairs.
Bonus points: you have a built-in person to pet-sit for you!
Simple Financing
Financing is surprisingly easy for duplexes, just as it would be with any other single family home. The recommended downpayment for a conventional loan is 25%, but you may get it as low as 15% (although your PMI will be higher). If you don't want to go the conventional route, then you can explore an FHA loan with 3.5% down.
The best part? You can use future rental income when applying so that you may qualify for larger loan amounts, allowing entry into more expensive property markets.
Any questions? I have some great lenders I work with consistently – I'd be happy to connect you!
Landlord Tax Deductions
As a landlord, you can take advantage of tax deductions that cover all sorts of expenses — from keeping up with maintenance needs to sprucing up the yard. Keep your rental unit running smoothly while saving money at tax time! However, it's important to note that if the tenant is part of your family, then certain deductions may not apply.
Can you see why a duplex could be your next great investment? Not only is it a home for you, it's a path to generate passive income for years to come. And that extra income can be used to help qualify for larger loan amounts allowing you entry into more expensive markets.
---
Key Takeaways
Generally speaking, a duplex is 1.5x the cost of a single family home
Mortgage payments on a duplex can be cheaper than renting, just make sure you compare your mortgage to average rents in the area
Renting out a unit can bring in passive income that qualifies you for larger loans
Don't fear being a landlord, having a tenant close by will bring you both peace of mind
Financing for a duplex is as simple as a single family home
If you rent out a unit in your duplex, you could be eligible for certain landlord tax deductions
If you've been considering passive income investments and want to know more about how a duplex could be your first step, contact me here! I have all the insider tips, tricks and strategies to help ensure that you are successful in your investment. Let's work together to create generational wealth for years to come!