If you know me, you know I'm a big time supporter of shopping local. This came about initially because of the creative endeavors of my friends and family…but when I became a realtor, turns out I attracted industrious, artistic, entrepreneurial clients as well. Soon I was surrounded by hardworking, authentic folk making a living making – using their skills, hands, and hearts to bring quality goods to the people. It's not an easy living, but it's easy to support them. And during 2020, it became even more critical that we boost local talent to help them through one of the toughest economical challenges in our lived history. I'm proud to support small businesses, because not only does it keep our local economy afloat, it also promotes a vibrant, ethical marketplace of quality skills and goods. Here's my 2020 list of 50 small businesses who need your holiday $$$: in no particular order, mostly Portland (but a cheeky handful of OR/WA artists, too), with recommendations from friends, family, and clients on great items for gifting under $50. Even if you only purchase from 1 or 2 of these vendors, you're making a big difference in their economic survival. Cyber Monday is on the horizon, so take advantage of any sweet deals and offers that may be available:
1. Amelia: An amazing array of jewelry, décor, and knick knacks, many of them under $50. A client recommended the mini diamond skull studs, $32 in silver or bronze. Skulls are never out of style, and you could be THE coolest aunt, ever, if you pop a pair of these beauties in your witchy niece or nephew's holiday stocking this year. Bonus: free shipping for $25+!
2. NoniMagic: At $12, the Ouroboris Trio bath bomb set is an affordable buy. And if y'all's bath time self care is way up this year (ahem), it'll be a very well received gift.
3. Girl Meets Dirt: I'm a little bit fascinated by this award-winning jam and preserve farm on Orcas Island across the way from Bellingham, WA, based on their intriguing range of small batch flavors, perfect for your holiday charcuterie board: Lavender Rhubarb. Quince Marmalade. Shiro Plum with Mint. Even if jam ain't your…jam, I'm pretty sure someone in your family would love to be the recipient of one of these. Jams and preserves range from $12-$14 and up, and there's gift packs, too!
4. DanaHerbert.com: You know I love locally-made/woman-owned, and a friend brought this one to my attention, recommending the gunmetal magnolia earrings for $45. Psst: you can also get face masks here, with $1 from each purchase going towards Oregon Food Bank!
5. Envoûter: This candle maker is brand new to the market, and already rocking our worlds with scents like Bourbon + Honey, and Spiced Pumpkin + Blood Orange. YUM.
6. Kindred Kid + Baby: Woo! This one you can get 30% off your purchase until Nov. 30th (Cyber Monday), so if you know someone who has had a Pandemic Baby (ie: 70% of your friends list), here's an excellent ethical and sustainable baby goods and décor option. My buddy recommended a gift card towards their gorgeous indigo plant-dye quilt.
7. HeArtByCody: My friend's fave from this whimsical artist is this cute crow mug – $15, and an easy way to buy some affordable art and inject a lil' color into a loved one's morning coffee ritual.
8. TheHomeBodyGuild: Quirky cute fashion accessories, like lobster or corn earrings, or this INCREDIBLE POM POM PHONE COVER for around $22?
9. Asiyah Rose: I'm OBSESSED. Try the Spa Day, Oud Bae, or Exotic Trip scents of these luxe candles, locally made by a rad woman of color, and you can thank me later. $40 and up.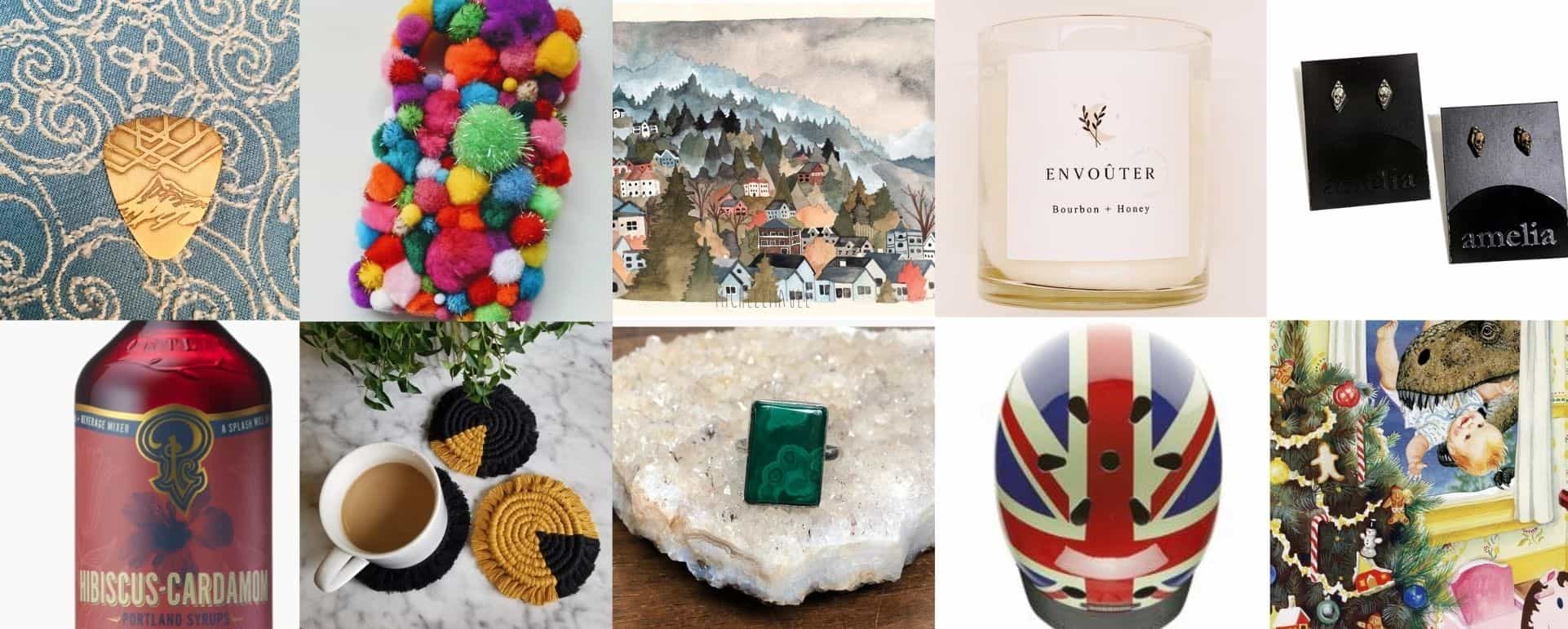 10. Helen Rose Skincare: Deep Moisture Skin + Hair Oil, Grapefruit. $25.
11. Sweet Home Alberti: Oof, you'll simply love their macramé coasters, $25 for a set, and bound to attract attention. 20% off the entire shop until November 30th, y'all!
12. Claws Out: 40% off storewide until Cyber Monday AND each color polish donates to a different non-profit. Plus free shipping over $30. Ahem, get to it. Some of you may relate to "Exhausted Empath".
13. Portland Syrups: Plump up the bar cart for the holidays. Hibiscus Cardamom syrup is just one of the delightful-sounding flavors, $14.
14. Little Bright Studio: Fiesta Gold + Orange Dangly Earrings, to make a cheerful statement. $35.
15. Kate Blair Stone: Cool af Vintage-inspired giftwrap, SWOON. At $5 a pop, you'll want them ALLLL.
16. BarrowPDX: Mini Talisman Necklace, $48.
17. LumePDX: Lovely natural jewelry + art, like these butterfly wing pendants.
18. Going Stag: Gorgeous wood art, and the vinyl lover in your fam will adore this display piece for $50.
19. Buy Olympia: Add instant interest and art to your wall with The Wanderer, $20+, depending on size.
20. WokeFace: WokeFace BNTY Glass Pink + Purple, $12.
21. MatthewMatthewMatthew: Need a high end shank? Just make sure to okay it with mom and dad before gifting this to a minor. $49.
22. Nutcase Helmets: Typically $70ish, there's an awesome bike helmet sale for $35 apiece right now. Give the gift of a safe noggin for the holidays.
23. Hustle Home Decor: Um, check these adorbs brass + macramé ornaments for your holiday tree, $36 for a set of 3.
24. Forge + Fire: What, you didn't think I was gonna list a shitload of earrings? Do you even know me? $46 for these pretty pretties.
25. Arq: An underwear revolution. $28 for these high rise undies, worth every damn cent. Lots of color choices, and, leopard print. 😉
26. Snappy Rockfish Soap: Quality, organic soaps made with love from a local maker – try the Coho Princess (nothing fishy, promise) – and currently on sale for $7 a bar, so great stocking stuffers!
27. Niko Ware: For the plant lover in your life, you can't go past this amazing nipple planter, in different skin tones to boot! $45, and made to order.
28. Studio Catawampus: Longtime local Portland artist and tattooist – check out this cute set of animal stickers for just $20, or surprise a friend with a $50 gift card towards their next tattoo at Oak Iris Studios.
29. Sage + Sea Farms: Delicious drinking shrubs and sipping vinegars from this farmers market staple – try a sampler pack for $30!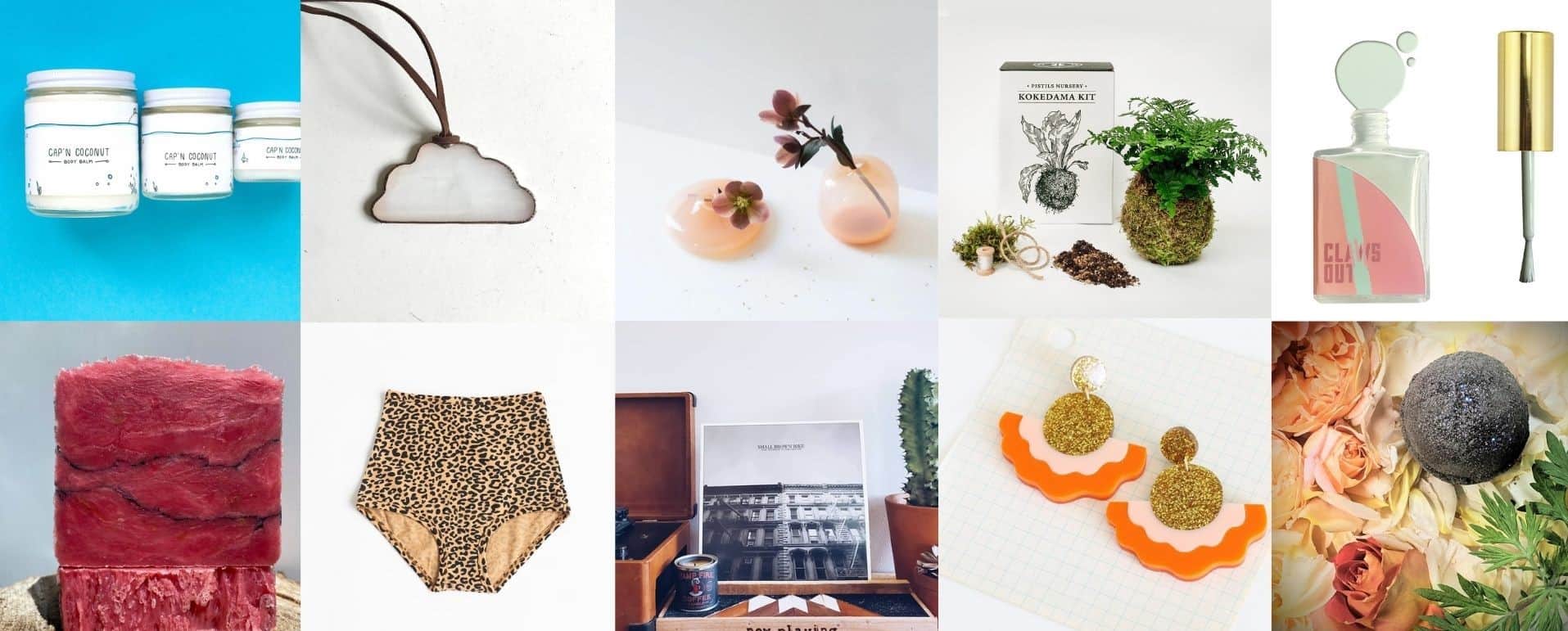 30. Colin Adrian Glass: Local leaded glass artist with lots of sweet pieces for under $50, like this cute cloud for $26!
31. Dearly Beloved PDX: Pop art candles that will rad up any angsty teen's room for $17, like this Bride of Frankenstein beauty.
32. Madina Designs: A fave on the summer street fair circuit, these gorgeous earrings are made by a local woman of color, and they are badass and super affordable, starting around $18 a pair. Love these lunar cycle earrings for $28.
33 – 35. Built Oregon: Handmade porcelain pour-overs for $42. Salsa gift box for $16. Cute watermelon onesie for $20. So much cool locally made stuff in this online market run by BIPOC.
36 – 38. CapnCoconut: Body Balm, $12.50 and up, Mermaid Hair for $18.50, and the Starter Kit for $38 if you can't decide on which delicious to go for. Awesome stocking stuffers, just sayin'.
39. Bread + Badger: Sand carved drinkware, and it's "buy 3, get one free" with free shipping over $35 until Nov. 30th, so you could knock out several holiday gifts in one fell swoop. Customize your color on this Cat Stretch Mug, or give the gift of a Spider Mug, $26 each.
40. House Dogge: Don't forget the doggos with something cool 'n' cute from this WOC-owned local business. These Comfort Collars are $40+.
41. Andy's Workshop: Ruth Bader Ginsberg maple wood earrings, just $25.
42. Pakhye: I've long loved this local metalsmith jeweler, and her Mt. Hood guitar picks are currently on sale until Monday, $28, perfect for the muso in your circle.
43. Kenton Antiques + Collectables: Thank goodness we can still thrift shop online! Buy sustainable, unique, and affordable crystals and vintage jewelry, like this stunning Sterling Silver Malachite Ring for $38.
44. Michele Maule: Iconic Portland artist, love this cute-yet-moody West Hills print, $15.
45. Sweetheart St. Johns: Get in on a weekly pastry share from one of Portland's most celebrated and decadent bakers, $50. This is a great way to support small businesses who work in the wedding industry, which has been particularly hit hard by Covid.
46. Unusual Cards: Shake up stuffy family traditions this holiday season with some subversive retro art. Get the Stay At Home Special, 15 fun and hilariously wrong cards for $50.
47. Seagrape Apothecary: Loaaaadds of witchy goodies for under $50, love this beautiful 2021 lunar calendar for $23.
48. Mantel PDX: Small Opaque Bud Vases for $28. Flat rate holiday shipping of $10, woo!
49. Pistils Nursery: Perfect gifts for the plant lover, like this DIY Kokedama Kit for $32.
50. Sardine Head: Give the Francophile fish lover in your life the gift of a socially distanced tinned fish picnic for two, starting at $20 – add more fish or natural wines to bump the fun. This is a super unique gift that supports a rad local restauranteur, and you can even rent a boombox (with free mix tapes!) for the experience.
Phew. Hope you enjoy the tips and recs for shopping local this coming Cyber Monday, and all year 'round, basically – it's a good habit to get into. I can't wait to hear about what you got, and please share this post with all your people!